Donations to AAUW support our various mission-related programs. Pictured below are our two 2017 recipients.  We had the pleasure of hearing from them during our March program.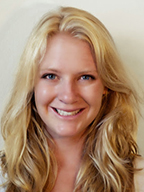 Kristen Aiemjoy, a doctoral candidate at UCSF, studies under a fellowship partially funded by the AAUW Marin Branch/Vera L. Schultz endowment.   Her discussion topic was "Epidemiology-Why it Matters".   Kristen explained how she is trying to eradicate pediatric diarrhea in Africa by studying local practices or conditions that lead to this condition and then determine what changes can be made to ameliorate it.    Her presentation epitomized the concern and tact of a woman who can successfully deal with topic that will undoubtedly be sensitive to the communities and the parents of the children she is studying.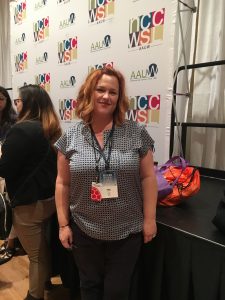 Renee Bell DuPee, a student at Napa Valley College and our 2016 NCCWSL scholarship winner discussed her experience at the NCCWSL conference in May 2016.   She met dynamic, like minded women from all over the world.    The conference included numerous workshops dealing with confidence building and leadership.  Prominent women representing many professional areas spoke to the group.  Renee returned home grateful for the opportunity to attend, and inspired to be a leader who makes a difference.
AAUW is one of the world's largest sources of funding for graduate women. More than 200 fellowships and grants are provided to outstanding women nationally through AAUW's Educational Opportunities Fund. In addition to fellowships and grants, donations to AAUW support a wide variety of mission-based programs, advocacy and research helping to advance equity for women and girls.
Donations may be restricted to specific programs, such as the Educational Opportunities Fund, or given without restriction for use in supporting other AAUW programs and activities as needed. In 2015 the Association launched the Charting the Course Campaign, seeking to raise $1,000,000 in unrestricted funds to bolster its flexibility in creating and enhancing programs empowering women and girls. The campaign came to a successful conclusion on 12/31/16 thanks to the generosity of AAUW members and branches.  These unrestricted funds will be used wherever they are needed most.
In 2016, the Marin Branch Named Gift Committee decided to initiate a new way of recognizing our branch leaders.  Dale Satake's leadership was acknowledged by donating a NCCWSL (National Council for College Women Student Leaders) scholarship in her name. Renee Bell DuPree, introduced above, was the first recipient.  In 2017 the branch will similarly recognize Cherie Sorokin's leadership by funding another NCCWSL scholarship.  Both Dale and Cherie are past presidents of our branch and prior named gift honorees.  In addition to local involvement, both have held offices either at the State or National level.  Cherie is currently a member of the governing board of AAUW National.
Annually, in the spring, our branch conducts a direct solicitation of members for contributions to AAUW, but donations may be made at any time during the year. Contact Gerrie Young, AAUW Funds Chair, for more information.