Upcoming Program
FEBRUARY TRI-BRANCH LUNCHEON
February 29th, 10 am- 12 pm
Do You Know the Answers to these Questions?
Why are we the only species that menstruates?
Why do women live well beyond child-bearing age?
What are peptides, and why do they matter to us as women?
Why is there so little basic research on women's health issues?
Come Join Us at the Annual AAUW Tri-Branch Brunch and Find Out
Dr. Jennifer Garrison, PHD and Assistant Professor at the Buck Institute is leading ground-breaking research into women's health issues.
The cost is $27, pay below or send a check made out to AAUW Marin to Katherine at
905 San Pablo Way, Novato, CA 94949
RSVP by February 25th!
---
Upcoming Program
MARCH PROGRAM SIGN UP NOW
CELEBRATE THE 100th ANNIVERSARY
OF WOMEN WINNING THE VOTE!
Amending America
A Theatrical Performance
By Kate Campbell Stevenson
March 18th, 7 pm
On Wednesday, March 18, 2020, Dominican's Women, Leadership and Philanthropy Council,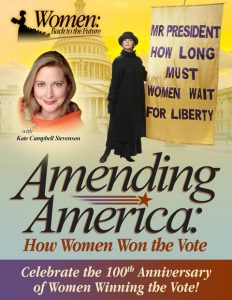 AAUW Marin, and community partners present a theatrical one-woman show performance by Kate Campbell Stevenson, depicting historical stories leading to American women's voting rights. Let your friends know. Men and women guests welcome! Showtime is at Guzman Lecture Hall @ 7pm and will be followed by Q&A of Ms. Stevenson with the audience. Coffee and Dessert to follow the performance. Tickets are $15 are require advance purchase. This event may sell out, so sign up NOW! Also, note that this program replaces the AAUW branch meeting previously scheduled for March 21.
RSVP AND PAY ON DOMINCAN'S WEBSITE
Guzman Lecture Hall
50 Acacia Ave, San Rafael, CA 94901
---
Donations to Our Branch Operating Expenses
Annual dues credits only $20 per paying member to our annual operating expenses. Out of this we pay for:
Our monthly events, refreshments, notices
Buy office supplies, pay for mailings, newsletters
Purchase Liability Insurance
Subsidize board members to attend national and state conventions
Help sponsor the Marin Women's Hall of Fame program
Fund the College of Marin Stem program
Make high school Science and Math Awards
Your contributions will help us stay within our budget. Please consider making a direct donation. Note: donations to the branch and program fees are not tax deductible.